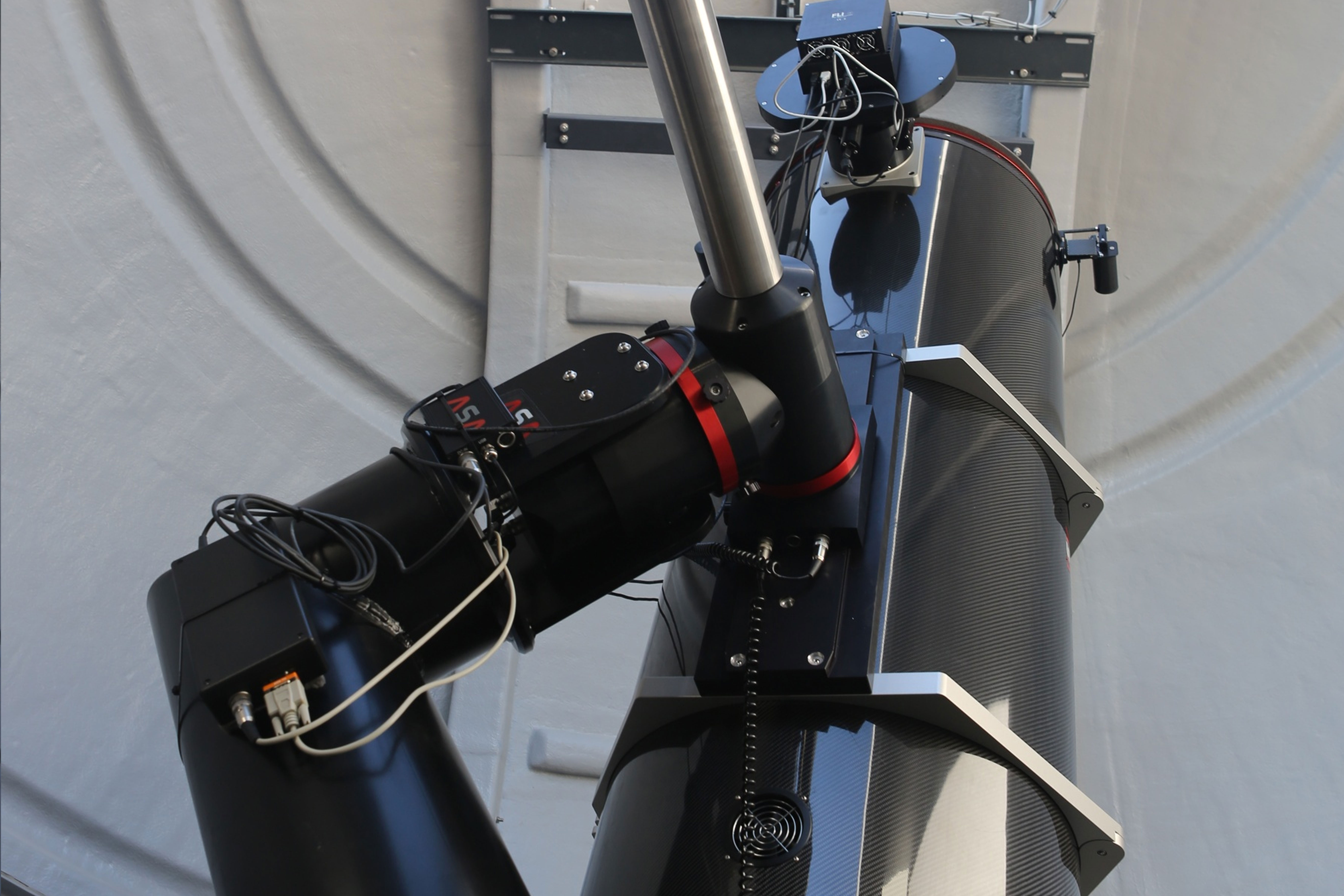 CHI-2 is an ASA 500N, a 50-cm F3.6 corrected Newtonian telescope, situated in the Rio Hurtado valley, Chile. It is an identical setup to CHI-4. It is equipped with a set of Astrodon astrophotography filters and thanks to its wide field of view it's an ideal instrument astrophotography of deep-sky objects.
Pricing
60 credits per hour of utilisation
Telescope Specification
Aperture: 500 mm (19.6 inches)
Focal Length: 1900 mm
F-ratio: 3.8
Mount: ASA DDM85 equatorial mount with direct drives
Minimum elevation: 30 degrees
Camera Specification
Model: FLI PL 16803 (spec sheet)
Pixel Size: 9 μm
Pixel Array: 4096 x 4096
Pixel Resolution: 0.98 arcsec/pixel
Cooling: -25 degrees in Summer, -30 in Winter
Field of View: 65 x 65 arcmin
Filters (50mm square): Astrodon LRGB 2GEN, Ha (3nm), SII (3nm), OIII (3nm)
Position angle: 270 degrees
Allowed exposure times (in seconds): 180, 300, 600, 1200, 1800
Automated calibration: Yes, the images will be provided fully calibrated in FITS format
Special considerations
This telescope doesn't support Automated Scheduling. You will only be able to use Custom scheduling.
For the submission of Advanced Requests, this telescope has a minimum total exposure time constraint of 30 min.
Observatory
Observatory name:

El Sauce Observatory

Location: Río Hurtado, Coquimbo Region, Chile

Coordinates: 30.472529° S, 70.762999° W (Google maps)
Elevation: 1525 m
Average seeing: 1.5'' - 2''
MPC code:

X02