The scheduling calendar gives you an overview of the schedule for each telescope.
You will be able to able to use this calendar during two steps of your observing request submissions. During the first step when you select your target and telescope (Target & Telescope), or in the last step, when you choose when to schedule your observation.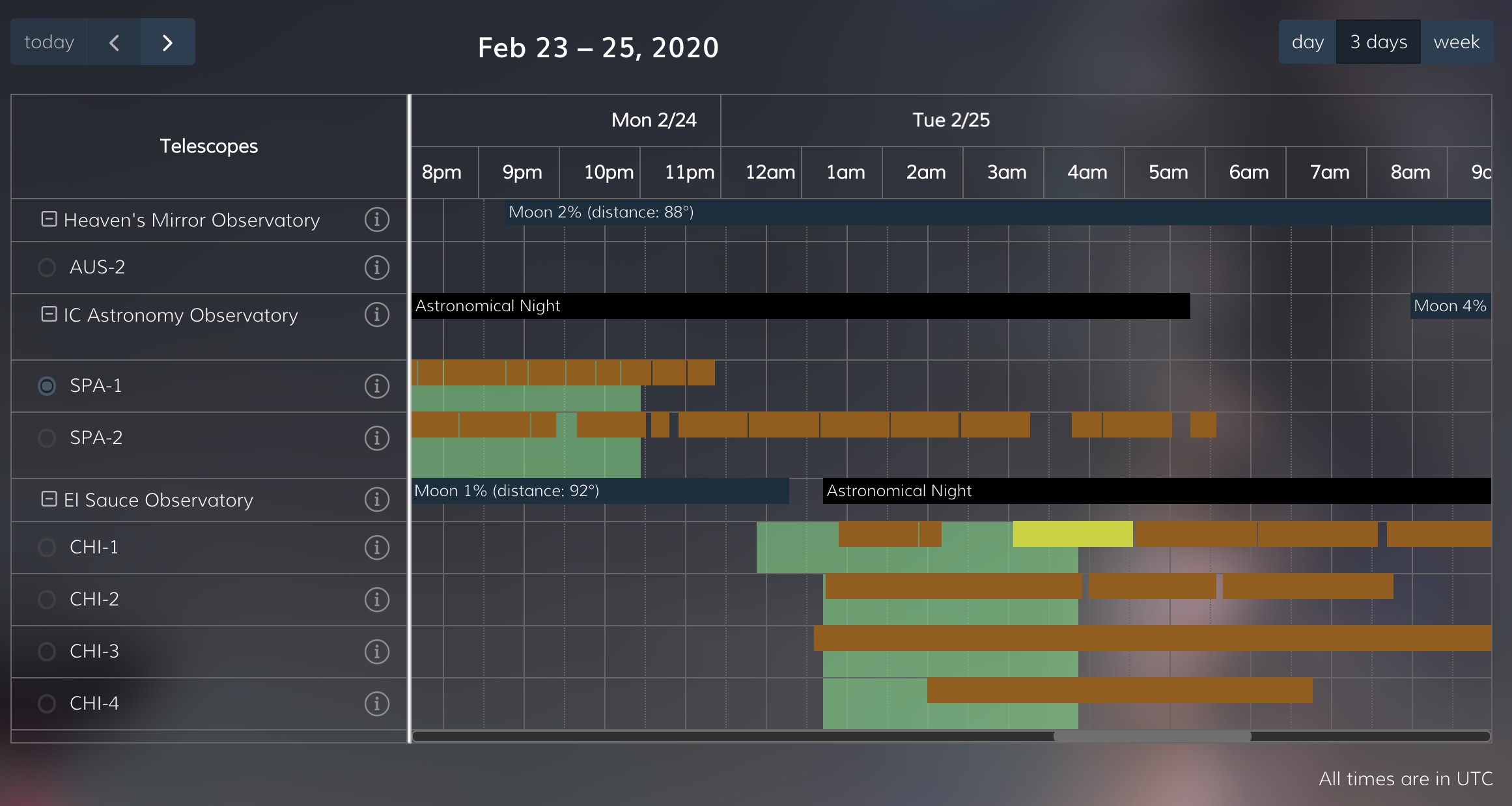 In the first step, Target & Telescope, you will need to click on the radio button

on the left of each telescope to select a telescope.
In the last step, you will need to drag and drop the Observing block into the calendar. Read more below to get more help.
Calendar legend
On the left, the various telescopes are grouped by observatory. You can click on

to get more information on each observatory or telescope. All times are displayed in UTC.
The events in

Black

show you the astronomical night, defined when the sun is below -12 degrees.
The events in

Dark Blue

show you the moon rising and setting times. You will also see the moon phase (in percentage) and, if a target is selected, the average distance of the moon from your target.
The events in

Brown

show you the currently booked sessions
The events in

Yellow

show your booked sessions
When you select a target, you will also see a

Green

background appearing for each telescope. This shows you the observability window of your target, assuming a minimum altitude of 30 degrees above the horizon, and maximum sun altitude of -12 to -18 degrees (depending on the telescope)
Scheduling your observation using the scheduling calendar
To schedule an observation at a specific time, during the last step you can select "Custom scheduling". The scheduling calendar will appear. You will need to use the horizontal scroll bar to find an available slot. The observability windows of your target are shown in Green . You also need to take into account existing sessions shown in Brown.
You will then need to drag and drop the Observing Block button into the calendar. A quick demonstration is given below:

Note that sometimes the Observing Block will jump back to its original position. This is because you will only be able to place your observing block where your target is observable and where no other slots are booked. Note also that if your session time is too long you might struggle to find an available slot. It take a bit of practice for you to get used to it!