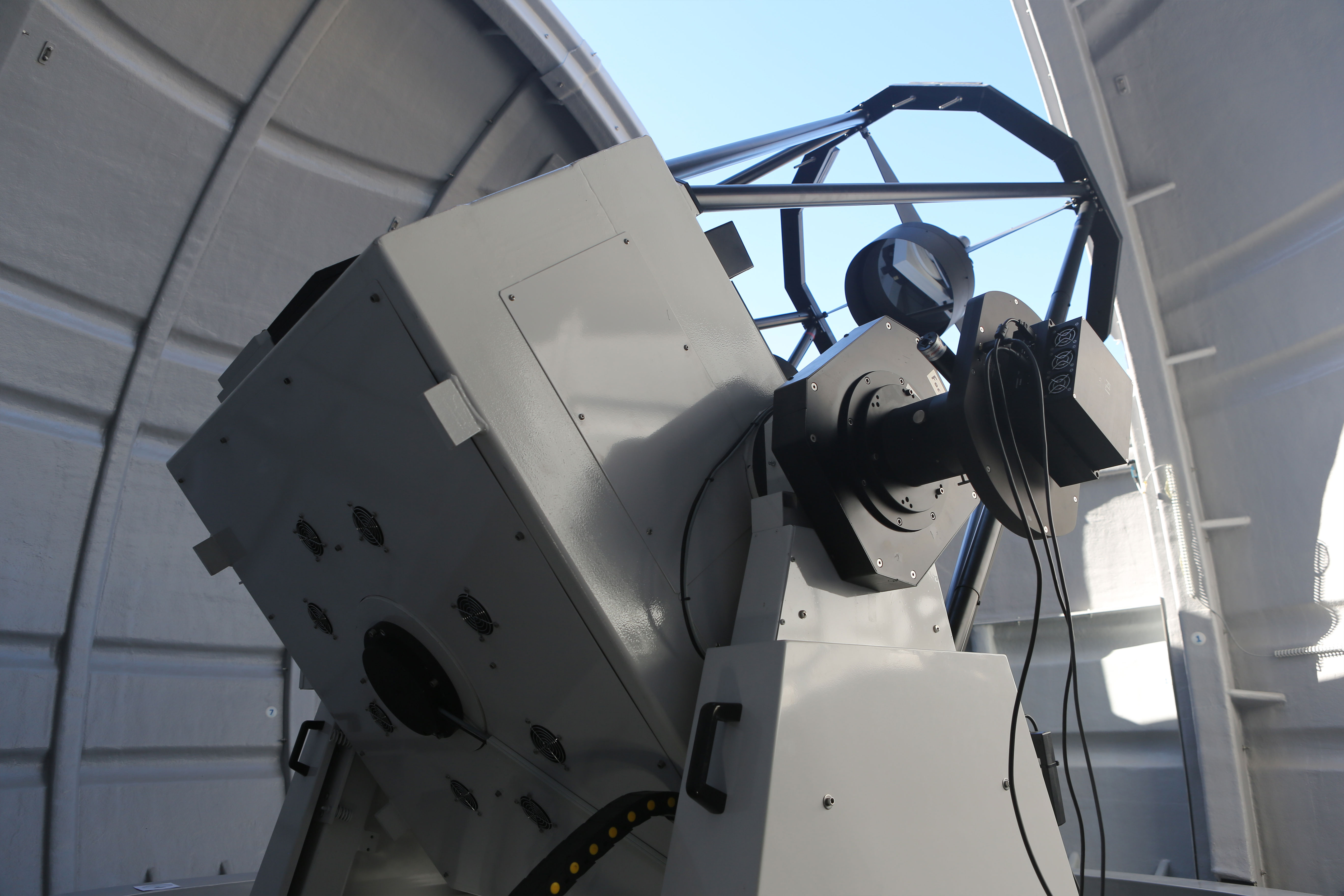 CHI-3 is an ASA 1000, a 1-m telescope with a Ritchey Chretien design, situated in the Rio Hurtado valley, Chile. It is equipped with a set of Astrodon astrophotography filters and Sloan photometric filters. This large aperture telescope is an excellent choice for both scientific applications and astrophotography of deep-sky objects.
Pricing
140 credits per hour of utilisation
Sample image
Telescope Specification
Aperture: 1000 mm (39 inches)
Focal Length: 6800 mm
F-ratio: 6.8
Mount: ASA Alt-Az Direct Drive Mount
Minimum elevation: 30 degrees
Camera Specification
Model: FLI PL 16803 (spec sheet)
Pixel Size: 9 μm
Pixel Array: 4096 x 4096
Pixel Resolution: 0.27 arcsec/pixel
Field of View: 19 x 19 arcmin
Filters(50mm square): Astrodon LRGB 2GEN, Ha (3nm), SII (3nm), OIII (3nm), Sloan r, Sloan g, Sloan i
Available binning: 1, 2
Position angle: Can vary depending on which guide star is used. Find out more.
Allowed exposure times (in seconds): 90, 180, 300, 600, 1200
Automated calibration: Yes, the images will be provided fully calibrated in FITS format
Special considerations for Advanced Requests
This telescope doesn't support Automated Scheduling. You will only be able to use Custom scheduling.
This telescope has a minimum total exposure time constraint of 30 min.
The position angle of images acquired with CHI-3 varies depending on the guiding star used for each request. Find out more.
Observatory
Observatory name:

El Sauce Observatory

Location: Río Hurtado, Coquimbo Region, Chile

Coordinates: 30.472529° S, 70.762999° W (Google maps)
Elevation: 1525 m
Average seeing: 1.3'' - 1.8''
MPC code:

X02
More details on guiding and position angle
This large 1 m telescope is an Alt-Az instrument equipped with de-rotators in both focuses. The field of view of guider sensor is very small, so in 90% of cases there is no guiding star on the sensor.
To deal with this we use a routine to find the suitable guiding star. The system takes a test frame, plate solves it and finds the nearest guiding star. Then it rotates the field to put the star on the guider sensor. So the Position Angle (PA) is determined by the nearest guiding star position.
If you submit multiple requests to this telescope fo the same target, and you want to keep the same position angle, you need to make sure to use the same target name. In this way, the telescope will use the same guiding star of your previous plan. If you don't do that, then the telescope will try to find a guiding star again, and it might end up choosing a different one, leading to a different position angle.