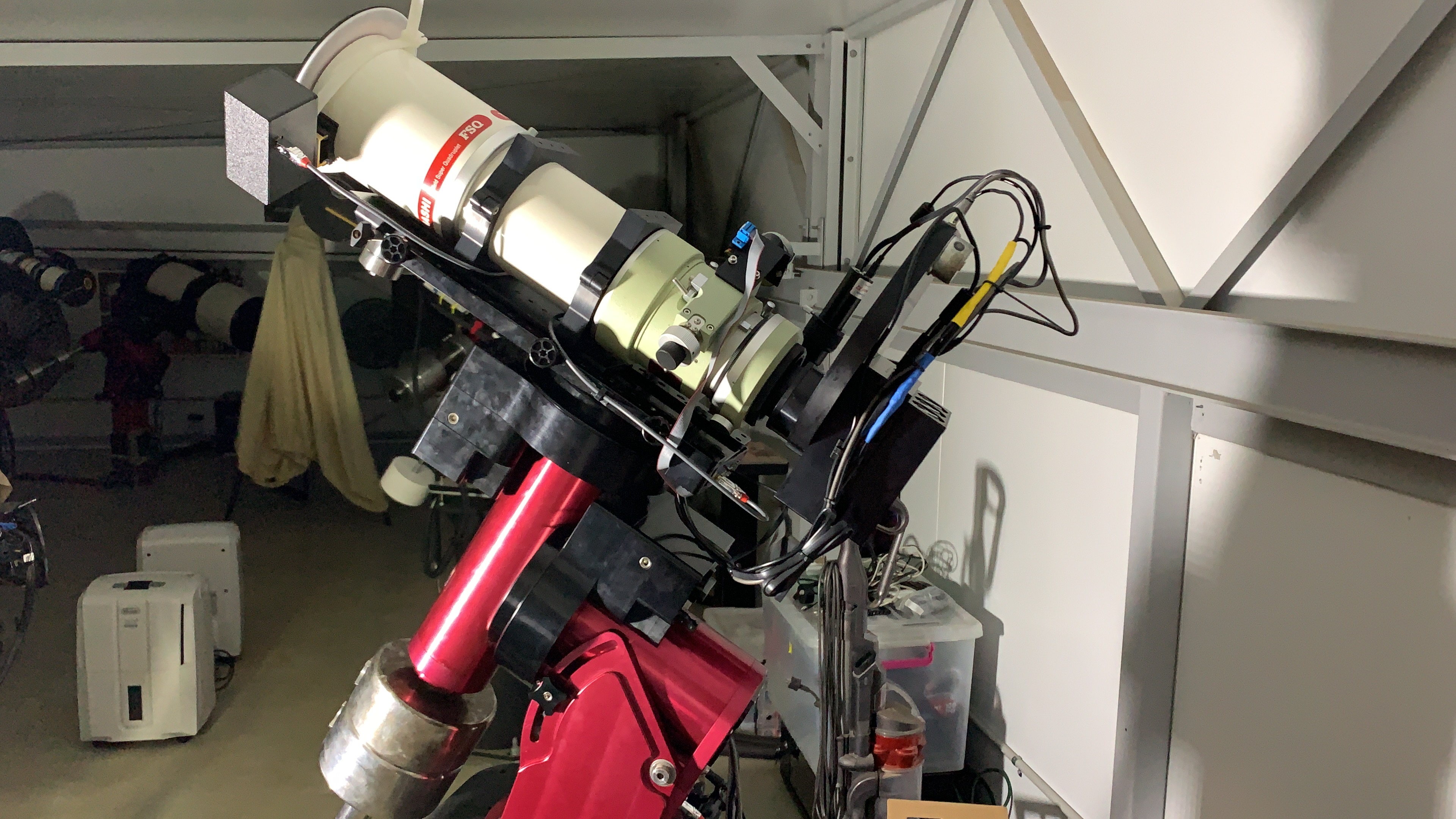 AUS-2 is a Takahashi FSQ-106ED (106 mm) F3.6 telescope, situated in Heaven's Mirror Observatory, Australia. It is equipped with a set of Astrodon astrophotography filters and it is an excellent choice for wide field of view astrophotography of deep sky objects.
Pricing
1.5 credits/min or 90 credits/hr
Telescope Specification
Model: Takahashi FSQ-106ED
Aperture: 106 mm
Focal Length: 382 mm
F-ratio: 3.6 (with

0.73x

focal reducer)
Mount: Paramount MX+
Minimum elevation: 30 degrees
Camera Specification
Model: FLI PL16083 (spec sheet)
Pixel Size: 9 μm
Pixel Array: 4096 x 4096
Pixel Resolution: 4.74 arcsec/pixel
Cooling: -25 degrees in Summer, -30 in Winter
Field of View: 324 x 324 arcmin (but see Image vignetting)
Filters: Astrodon LRGB 2GEN, Ha (3nm), SII (3nm), OIII (3nm); 50mm square
Position angle: 269 degrees
Allowed exposure times (in seconds): 5, 10, 15, 20, 30, 45, 60, 90, 120, 180, 240, 300
Automated calibration: Yes, the images will be provided fully calibrated in FITS format
RBI correction enabled: Yes
Guiding
Active guiding: Yes, external
External scope: TBD
Guiding camera: Starlight Xpress Ultrastar
Overheads
Initial set up, including focusing and target centring: 6 min
Image overhead (readout, download, plate solution):
Change filter: 15 sec
Refocusing: 6 min
Calibration frames
New sets of calibration frames are acquired every week
Flat field frames for each filter are acquired using an Alnitak Flip-Flat Flat Fielder
Darks are acquired for each allowed exposure time
Observatory
Name:

Heaven's Mirror Observatory

Location: Yass, NSW 2582, Australia
Coordinates: -34.8285 N,148.8413 W (Google maps)
Elevation: 530 m
Average seeing: 1.5'' - 2.0''
MPC code: Q56
Image vignetting: Lack of light at the edges of the frames
The images obtained with AUS-2 suffer from vignetting caused by the image circle of the telescope. The diagonal of the CCD chip of 52mm is in fact larger than the projected field of view of the telescope, nominally of 44 mm at 60% illumination.
While some signal is still present at the extreme corners of the image, flat fielding alone is not sufficient to completely eliminate the problem, which should be corrected in post-production.
While we could crop the image for you, we prefer to deliver the image in its full size and leave the decision to you.
Note that we will not issue refunds if the given reason is for this image vignetting.