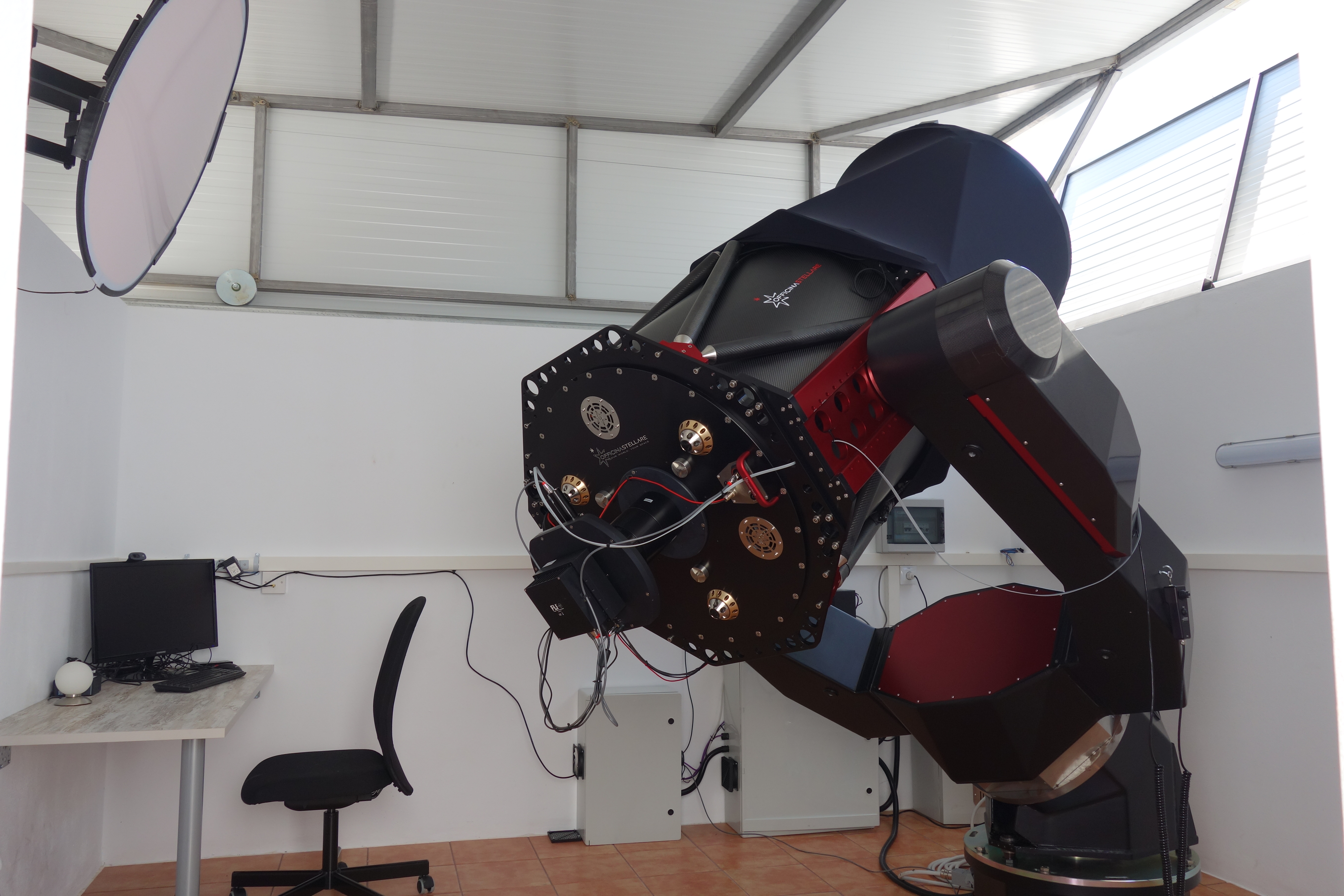 SPA-2 is an Officina Stellare 70cm (27.5 inches) F6, situated in Oria, Spain. It has an RC optical design and has a 0.75% focal reducer installed. It is equipped with a set of Astrodon astrophotography and Sloan photometry filters, and it is, therefore, an excellent choice for astrophotography of deep-sky objects and for scientific applications such as photometry.
Pricing
130

100 credits per hour of utilisation

The telescope is currently discounted as the maximum exposure time allowed is 120 sec, instead of 600 s, which causes higher overheads. This is because autoguiding is currently disabled.
Telescope Specification
Model: Officina Stellare 700 RC with 0.75 focal reducer
Aperture: 700 mm
Focal Length: 4267 mm
F-ratio: 6.0
Mount: Officina Stellare equatorial fork mount with absolute encoders and direct drives
Minimum elevation: 30 degrees
Camera Specification
Model: FLI PL16803 (spec sheet)
Pixel Size: 9 μm/px
Pixel Array: 4096 x 4096
Pixel Resolution: 0.43 arcsec/pixel (bin 1), 0.86 arcsec/pixel (bin 2)
Cooling: -25 degrees
Field of View:

29.5

x

29.5

arcmin
Filters (50mm square): Astrodon LRGB 2GEN, Ha (3nm), SII (3nm), OIII (3nm), Sloan r, Sloan g, Sloan i
Position angle: up is 179.7 degrees E of N
Allowed exposure times (in seconds): 5, 10, 15, 20, 30, 45, 60, 90, 120, 180, 240, 300, 450, 600 (see Guiding)
Available binning: 1, 2 (default: 2)
Readout mode: 1 Mhz without RBI Flood
Automated calibration: Yes, the images will be provided fully calibrated in FITS format. You will also be able to download the calibration frames.
Guiding
Active guiding: NOT CURRENTLY ENABLED

With the inclusion of the focal reducer in the optical train, there is no space for the Off-Axis-Guider that we used to have. We are therefore working to install a refractor on the side of the main OtA to enable external guiding. In the meantime, we rely on self-guiding, and therefore we limited exposure times to 120 sec maximum.

Guiding camera: Starlight Xpress Ultrastar (not currently used)
Overheads
Initial set up, including focusing and target centring: 6 min
Image overhead (readout, download, plate solution):
Change filter: 15 sec
Refocusing: 6 min
Calibration frames
New sets of calibration frames are acquired every week
Flat field frames for each filter are acquired using an Aurora Flat Field panel
Darks are acquired for each allowed exposure time
Observatory
Site: IC Astronomy
Location: Oria, Almería, Spain
Coordinates: 37.4988 N,-2.42178 W (Google maps)
Elevation: 1250 m
Average seeing: 1.5'' - 2.5''
MPC code:

Z08